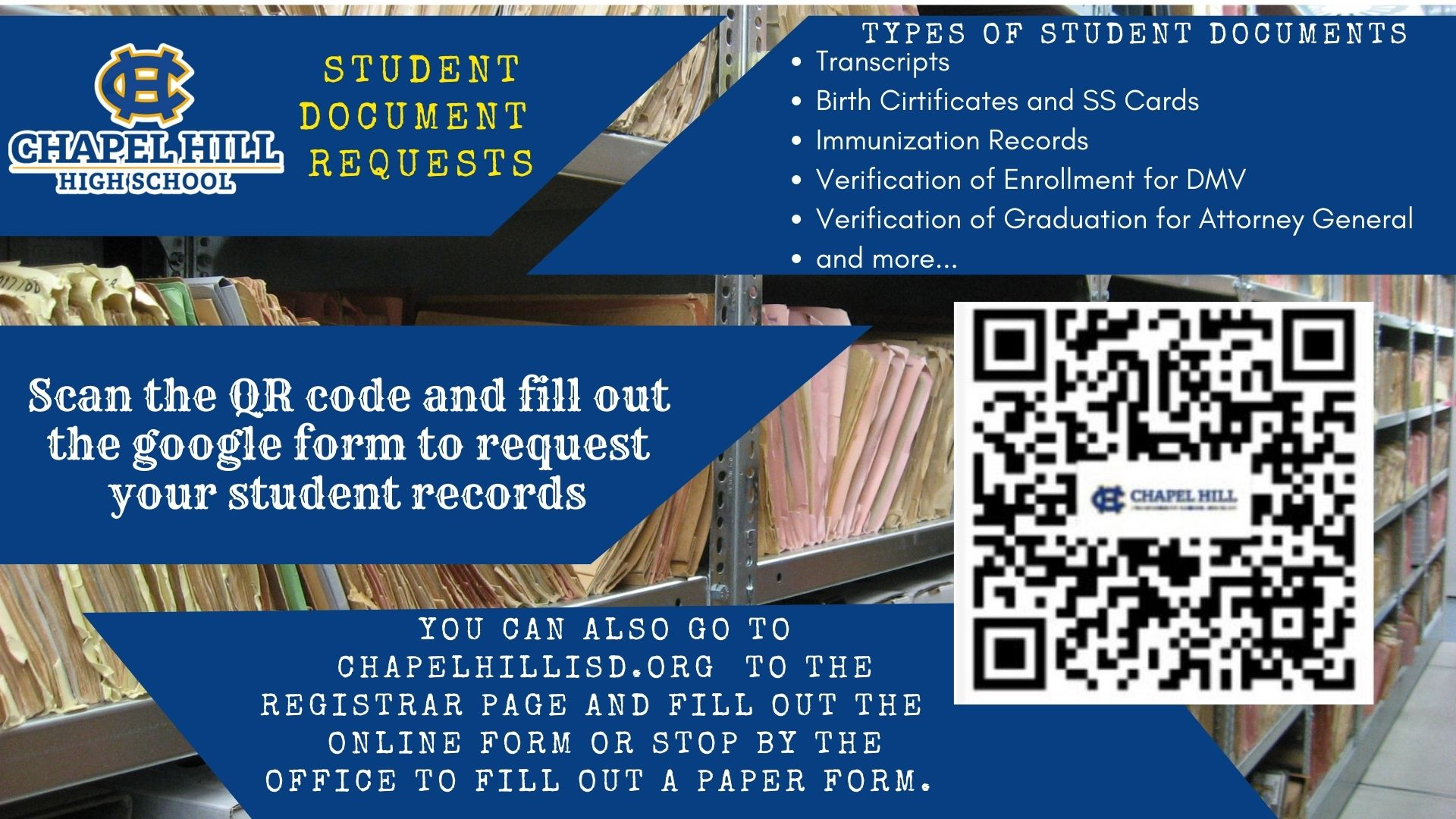 Requesting Student Documents
IF THE STUDENT IS OVER THE AGE OF 18 THEY ARE REQUIRED TO REQUEST RECORDS THEMSELVES. WE CAN NOT ACCEPT REQUESTS FROM SOMEONE OTHER THAN THE STUDENT IF THEY ARE OVER THE AGE OF 18.
Types of student documents you can request are Transcripts, Birth Certificate, SS Card, Health Record, Verification of Enrollment for DMV, Verification of Graduation for the Attorney General, and more. When requesting these documents the current or former student can submit online or by paper.

Please Note:


Student documents may be sent at any time.

If a final transcript is requested by colleges/universities, an official transcript will need to be submitted to institutions once your diploma has been conferred and the graduation date is posted.

The registrar's office will send out official transcripts as soon as they are completed at the close of each semester.

All seniors who have earned college credits will need to request an additional transcript directly from that institution (TJC, UT-Tyler, UT-Austin, etc..)

Ways to request Student Documents:

Online:

You may submit your request electronically:

The online service can submit your request directly to the recipient

Email/Fax:

Download the Student records request

You can email these PDF requests to whitmang@chapelhillisd.org, and type "transcript request" in the subject line.

Please allow up to 3 to 5 business days for all requests to be completed.

Please Note: All requests will be sent electronically when available. If you wish to pick up in person, you will be required to show a photo ID for verification. The name of the proxy must be listed on the request form and they must show their photo ID.