Chapel Hill, Smith County, Texas - The Chapel Hill community has demonstrated their support for local education by approving a school bond in a landmark election. The school bond has passed with a resounding vote in favor of the three propositions, allocating $113 million for critical safety upgrades, renovations, and new construction.
"This is a tremendous victory for the entire Chapel Hill community, and it would not have been possible without their incredible support and participation," Superintendent Lamond Dean said. "We are so grateful to our community for their dedication to our schools and our students."
Proposition A, which will provide $94.84 million for the new construction of a Junior High School, Career and Technical Education Centers, and classroom additions at Wise Elementary and Jackson Elementary. Prop B, which will allocate $13.595 million for a new multi-purpose activity center, and Prop C, which will provide $5.485 million for a new operations facility.
"We are grateful for the support of the Chapel Hill community in passing this bond, which will enable us to make vital improvements to our school facilities,"School Board President Les Schminkey said. "With this investment, we will be able to create a safe and modern learning environment that will better prepare our students for the challenges of the future."
The bond will be funded through property taxes, and the district has pledged to be transparent and accountable throughout the entire process. "We recognize that this is a significant investment, and we are committed to using these funds to make tangible improvements that will benefit our students, staff, and community," Dean said.
With the support of the community, the Chapel Hill school district is committed to continue its mission of providing an exceptional education for all students. To learn more about the bond and its impact on Chapel Hill schools, please visit https://www.chapelhillisd.org/o/bond.
About Us
Chapel Hill Independent School District is a high-performing 4A public school located Northeast of Tyler, and is committed to academic excellence. The district serves 3,400 students in five schools, and is dedicated to creating a supportive and inclusive learning environment where all students can thrive.
430,500 meals served free at no cost annually.

In 2021-2022, Chapel Hill High School students received 249 industry-based certifications.

702,659 total sq. ft. maintained by the Facilities Department.

351,341 miles driven by our buses annually.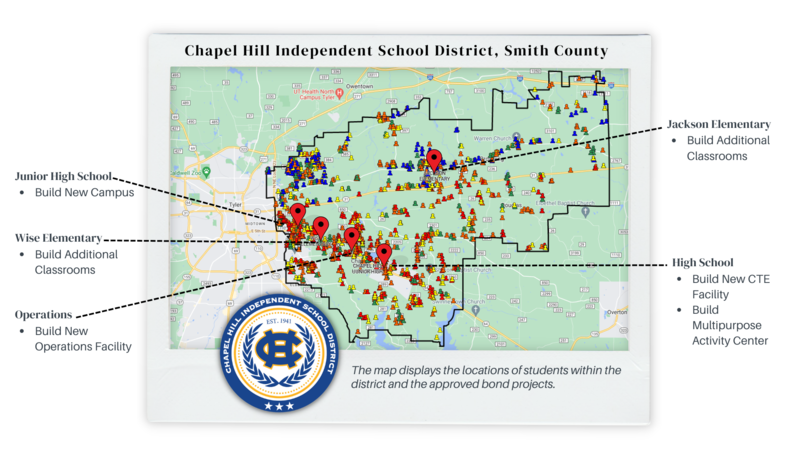 For more information, contact Communications Director Belen Casillas at (903)566-2441 or via email at casillasb@chapelhillisd.org.